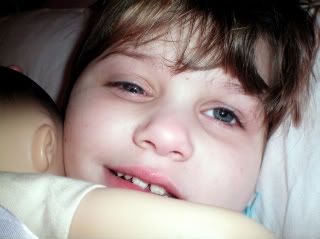 This is a picture of Hadley this evening. No words can describe the way my heart has broken over and over again in the last few weeks. I have watched her body fail her...and it hurts so much.
Our family life is in transition. For the last year-ish we have been able to sort of goosh into the 'typical' life. We've had reminders here and there that our 'normal' is not typical...but, for the most part we've been able to 'play normal'. Adjusting to (what I lovingly/grudgingly-depending on my mood-call) life in the trenches. Our lives have started revolving around our girl and her brain tumors again. It's not a fun world to live in. I won't apologize for the fact that I am about to be living, eating. breathing, dreaming brain tumor and Hadley's care. I try to preserve as big a piece of myself as I can. I will try to remember that people want to have conversations that don't include the latest trial chemo drugs, the best neurosurgeons in the country and the fact that I envy people who have never had a chronically ill child. But, be patient with me. Please.
Please pray for my girl. Pray for my boys. I think they're pretty swell. Regardless, they shouldn't have to 'deal' with any of this. They're growing up so fast...having to learn lessons they shouldn't have to learn this young. My heart hurts for them. Please pray for Brandon and I as we make decisions for Hadley...and remember to lean on each other through it all. Pray for our friends and family...they are going to need strength and patience to 'deal' with and support us...all while they're hurting too.
Please pray that our move goes smoothly and that we find a home so I can stop worrying about it. =)
Pray for all of our Brain Tumor friends...and hurting kiddos and their parents everywhere.
Please pray for cousin Stevie...and her family who are coming up on one year of missing her. We love you and miss you Stevie. Steve, Gina, Aly and Noah we love you.
(wow, I sound really needy don't I?)
Just pray! It's the only thing I know to do when I'm feeling this 'lost' and helpless.
www.HadleyFox.com (MRI on Friday!!!)